Leather Lounge Cleaning Gold Coast
Leather Lounge Professionals service all areas of the Gold Coast and south into Tweed Heads with our in-home mobile leather lounge cleaning service.
We are the only business on the Gold Coast specialising exclusively in leather lounge cleaning and restoration.
As experts specialising in leather lounge cleaning, we can provide the correct advice to ensure your couch is restored or cleaned to pristine condition.
We offer the following services:
Leather lounge / upholstery cleaning
Leather conditioning
Cushion refills
Stain extraction
Leather repairs (removing scratches, grazes, cuts, cracking, scuff and pen marks)
If you have a leather lounge recliner mechanism that is broken we can also supply and replace trigger actions and cables.
Some common causes of leather lounge wear and tear that we come across are:
Leather cracking
Leather Stains
Dye Transfer (e.g. marking from throw cushions etc)
Cushions that have fatigued over time and require repadding
Discolouring from cleaning products and other medications
Faded colour
General dirt and grime / wear and tear
Scratched and grazed leather
Pen marks and other inks
Peeling / requiring colour touch up
Mould build up
Broken recliner levers and mechanisms
Our photo gallery shows some good examples of all of the above and the results that can be achieved. It is surprising how well your leather lounge or couch will come up with our cleaning methods.
We are not carpet cleaners or pest exterminators we are LEATHER LOUNGE PROFESSIONALS. Our results speak for themselves.
What's the Leather Lounge Professionals Difference?

We have developed our leather lounge cleaning techniques over many years. This experience helps us identify the different finishes on all types of leather and then select the right cleaning option.
We use different grades of leather cleaners and using the right one for each circumstance is essential to obtain an optimal result and avoid damaging the leather.
Before & After Gallery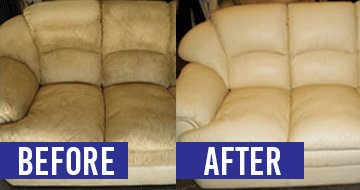 View examples in our Before & After Photo Gallery
Leather Recliner Repairs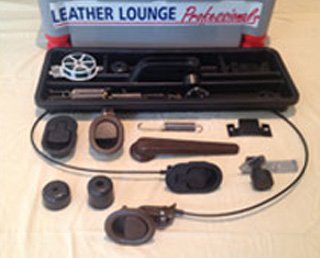 We can remove and replace broken trigger mechanisms on recliner style couches and chairs.
---