Clean & Condition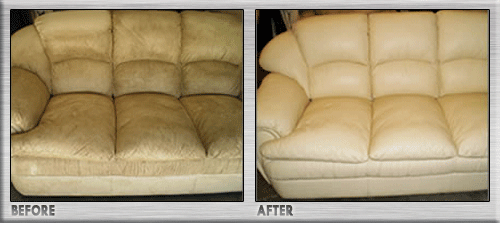 Yes the above lounge was really filthy! This shows what we can achieve with our cleaning & conditioning process
Our professional cleaning agent was massaged into the leather until we were satisfied that all soiling was removed. We then applied our moisturising conditioner to soften & protect.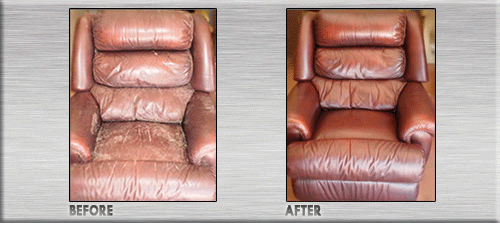 This chair had been in storage and the leather was showing signs of age. Our stain extraction method followed by our clean & conditioning process brought it back to near new. The owner was wrapped with the exceptional result.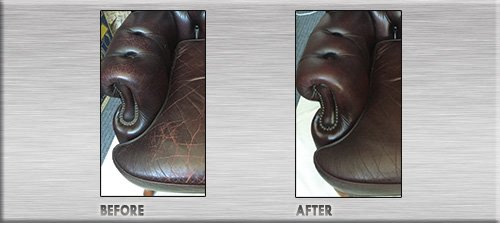 Damaged Leather
The damage above was inflicted by a local carpet cleaning company. We were happy to restore the leather with great relief to the owner.
Acidic Reactions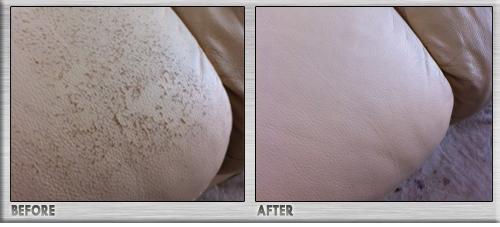 The crazed/peeling leather seat above is a result partly due to the owners high skin acidity and the combination of a poor quality top coat lacquer. These top coat lacquers are now more commonly water based,and can react badly to perspirations, particularly in our climate.
Lounge Cushion Refills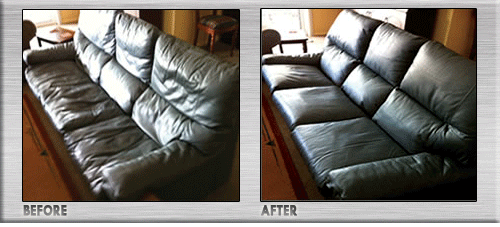 The lounge suites above were looking old and tired and were in need of cushion refills. We can refill cushions, clean & condition the whole lounge suite (colour touch up where & if needed) and leave our customers with a revamped suite. The long lasting results ensures many more years use from the lounge suite.
Discolouring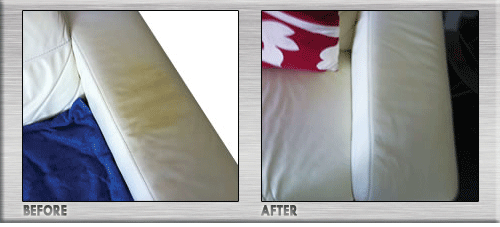 Some medications and cleaning products can create discolouring, as was the case in the above photos. Our stain extraction method followed by a deep clean & condition completely removed the discolouring.
Dye Transfer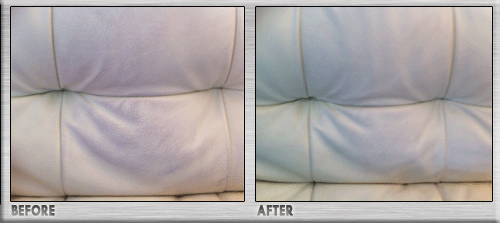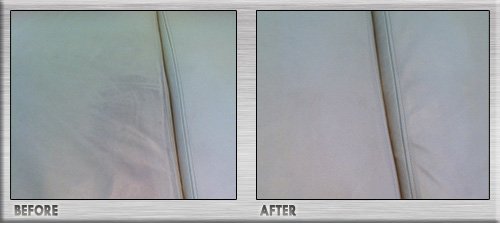 Dye transfer can be a real problem if not attended to early. Throw on cushions and clothing are the main culprits that can transfer dye. Obviously light coloured leather can show the effect of dye transfer more.
Note: Due to unknown types of synthetic top coats on some lounge suites including polyurethanes etc, dye transfer sometimes cannot be removed.
Colour Refurbishment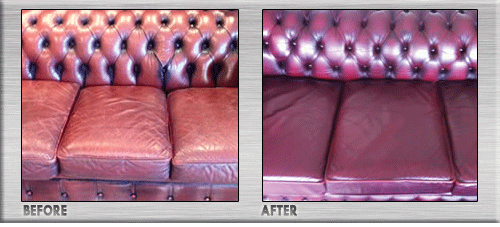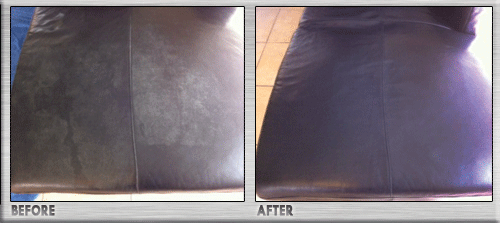 The process of leather colour refurbishment is ideal for dry cracked leather where colour is missing.
We mix our colour on site to provide an exact match to your leather lounge. As shown above, some high quality results can be achieved. The on site colour mixing means we can conveniently do this in your home with complete professionalism.
Scratch/Graze Leather Repairs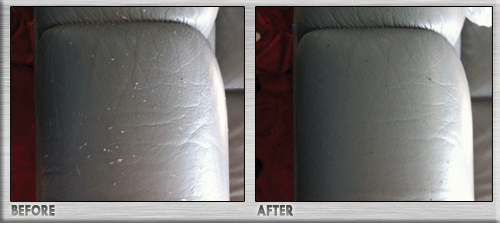 Depending on the damage to your leather different methods are used e.g. patches may be applied for cuts and fillers used for scratches etc then colour is matched then applied followed by a top coat clear.
Removal of Pen Marks/Permanent Marker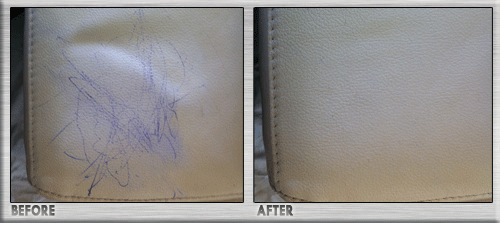 We use special techniques and cleaning agents that remove the pen or permanent marker whilst maintaining the integrity and colour of the leather.
Colour Touch Ups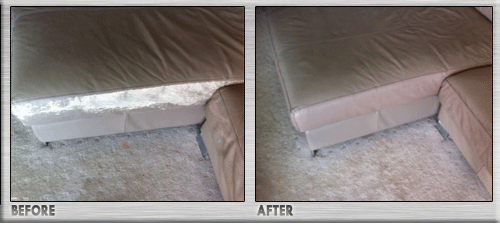 We mix colour on site to match your leather (We use drop sheets to protect your carpet) and then with a small spray applicator ad the colour to affected areas.
Mould Removal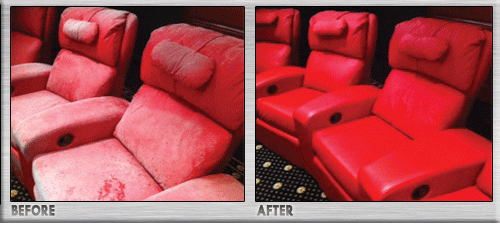 Many types of mould exist. The earlier they are dealt with the better the outcome. Most problems with mould arise from times of high humidity, heavy rain fall, and from being in an area of poor air circulation (some mould can not be removed if left untreated over a long period of time). Talk to us if you require some advice.
Contact Us